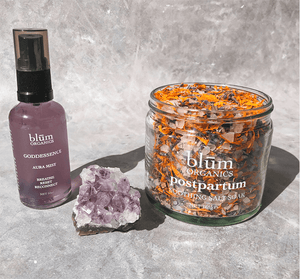 Postpartum Sacred Window Pack
Regular price
Sale price
$127.00
---
Intention
Our Postpartum pack is designed to nourish and nurture new mothers, to reset the nervous system and to promote healing.
If you are a woman who has just given birth, you have just been through a transformation like no other, a powerful rebirth of you as a woman.
Traditionally, postpartum women would be cared for by others during their sacred window (the first 6 weeks after birth), where the mother's sole purpose was to rest, heal and bond with her baby.
We have lost touch of the rituals around transitional periods of life as the incredible rite of passage of becoming a mother is almost brushed over and it becomes all about the baby.
A critical part of your postpartum period is to carve out the space to reflect and process what has just unfolded.
This sacred time is to heal, rest, and reconnect, remembering you too have just been born.

What's included in the pack?
1 x Amethyst Crystal (valued at $17)
1 x Goddessence Mist (valued at $67)
1 x Postpartum Soothing Salt Soak (valued at $56)
Gift wrapped in black box with luxe gold ribbon (valued at $15)
Affirmation Card & Personalised Love note
Regular Pricing $161
Price $127 (includes free shipping)
How to Use
Salt Soak Ritual
Bathing in water infused with potent healing herbs is a crucial step to repairing post birth.
Our postpartum blend also has the multitasking mum in mind! It can be used a number of different ways. Ideally, it would be used to carve out some space for mama to relax and unwind, soaking in the full body relaxation benefits. 
If time does not allow, or you do not have a bath, the post birth healing benefits can be achieved in alternative ways as well. It can be infused in a peri bottle, soaked into maternity pads (to make into padsicles as a warm or cold compress), or it can be used to make a fantastic infusion for a Sitz bath.
Aura Mist Ritual
A few deep breaths of Goddessence gently brings you back to the present moment. Designed as a solution to help ease anxiety, to help you let go, and soften the grip, or attachment to an outcome. Allow the inhalation of lavender to grace you with its calming nature.
The Result
The Postpartum pack is designed to celebrate you mama, to allow time to reflect on just how far you have come, and what you have already achieved in this incredible journey that is motherhood.
Bathing in water infused with potent healing herbs is a crucial step to repairing post birth, help to reduce bleeding, repair torn tissue, and reduce swelling. It is also incredible for helping heal C-section scars. 
Our Goddessence Aura Mist provides you a moment to breathe, reset and reconnect with that which is truly important, a moment to shift your mindset truly can change everything.
Inclusions
Pack Inclusions
The postpartum pack contains essential support tools to help you transition into motherhood.
You will receive a palm sized amethyst, a powerful crystal which protects you from negativity, and helps with stress and anxiety.
It contains the Postpartum Soothing Soak which contains a unique blend of Australian organic herbs, chosen to optimise healing post-birth.
Also included is our Goddessence Aura Mist, a saviour for those moments where you might be feeling overwhelmed. This mist allows you to tap into your feminine energy and trust that mama knows best.
Ingredients
Goddessence Aura Mist
Citrus Aurantium Ssp. Amara (Orange Blossom) Floral Water**, Lavandula Angustifolia (Lavender) Hydrosol**, Pelargonium Graveolens (Geranium) Hydrosol***, Glycerin***, Amethyst Crystal*, Sodium Levulinate, Potassium Sorbate*, Sodium Phytate*, Spirulina Maxima**, Daucus Carota Sativa* (Purple Carrot), Hibiscus Sabdariffa*.
Postpartum Soothing Salt Ingredients
Magnesium Chloride* (Genuine Zechstein Magnesium Flakes) Sodium Chloride*, (Australian Pacific Sea Salt) Lavandula Angustifolia*** (Dried Lavender) Calendula Officinalis*** (Dried Calendula Flowers) Achillea Millefolium*** (Dried Yarrow) Hibiscus Sabdariffa*** (Dried Wild Rosella Flowers) L-Ascorbic Acid*, (Vitamin C).
Certified Organic ***, Organically Grown**, Natural/Wild Harvested/Non-Gmo*.
For a full glossary of the ingredients we use in our products, click here.
Word to the Wise
Please refrain from removing the crystal until you are finished with the liquid contents to maintain purity and to avoid bacterial contamination.
This product loves to keep cool and out of direct sunlight for maximum shelf life.
As salt is a natural mineral when it is exposed to air, overtime it will begin to melt! To avoid this, keep the lid on tight/pouch sealed at all times, or refrigerate to avoid humidity exposure.
Included is an organic cotton drawstring bag if you wish to contain the flower matter rather than dispersing the contents throughout the bath water. To drain the tub, please remove flowers prior to releasing water.
Remove flowers immediately after use to avoid bath staining, especially in stone bathtubs.